How to Stop SPAM on Your WordPress Blog Using the Akismet Spam Plugin
How to Stop SPAM on Your WordPress Blog Using the Akismet Spam Plugin
There is a Digg for this article HERE.
Now that I have installed the Akismet Spam plugin to help control the ridiculous amounts of Spam that was being thrown at my blog, the queries are pouring in about what Akismet is and how do they install it too! Turns out that Spam is just an insane issue right now on WordPress blogs, and it seems like Spam bots are out of control. The only real way I found right at first to control this was to force people to register in order to post comments and this cut down the spam quite a bit. Unfortunately I know that I lost a lost of feedback because most people don't want to register just to post a hello or a one sentence comment.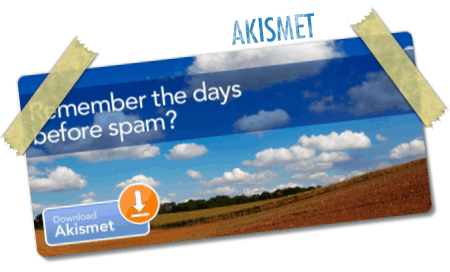 So how do you solve this Spam issue without forcing people to register? Well, you install the most popular and effective Span control plugin currently available online called Akismet! Did I also mention it's 100% free for personal use? If you want to learn more about what Akismet actually does and how it works, check out their FAQ.
This tutorial will show you step by step how to install the plugin and get your free WordPress API key in order for it to work for your personally hosted blog. If you host your blog at WordPress, then you don't need this because your blog is automatically protected by Akismet. If you host your own blog(s) like I do, you need to install the plugin manually. Click below to continue!

Step 1: Once you have installed and set up your hosted blog, you will need to download the latest version of the Akismet plugin by visiting their homepage at akismet.com. Click the download button on their main page to download a zip file that contains the plugin script.
Step 2: Save the zip file to a temporary folder or open it directly and extract the contents to the same temporary folder.
Step 3: Using an FTP program, upload the akismet.php file to your blog's plugin folder (normally found under /public_html/wp-content/). This file is the actual Spam plugin script that you will later activate from within your blog's admin control panel.
Step 4: Close your FTP program and visit wordpress.com in order to open an account and get your API key. We're basically going to create a wordpress hosted blog, but we don't actually need to use this blog at all… we just need the API key that will be generated by creating this blog. The API key will work for any of your personally hosted blogs as well as the wordpress one. Click on "Get a WordPress Blog Now" to get started with the registration process.
Step 5: Fill out the registration form and click Next. You will then be shown a confirmation screen informing you to verify your email for an activation email and your blog password.
Please continue to the next page.