Vacation Time and Helping Support the Mira Foundation
Vacation Time and Helping Support the Mira Foundation
Vacation time is almost here! We'll be heading out to Niagara Falls, Ontario, on Wednesday for a 5 day vacation with the family. My daughter is really stoked about going to Marineland to check out the Killer Whales and the Belugas and I was showing her some video of the Maid of the Mist and she's REALLY looking forward to trying that out. The Maid of the Mist is a boat that takes you right next to the falls and it's really amazing… the falls are super loud and you get soaked (They give you these plastic rain coats when you board so your clothes don't get drenched). We might also check out Wonderland if we get time, but we've already got quite a bit planned to do, plus I'll be visiting a friend who is working on a Star Wars fanfilm on the weekend. We'll be staying in a nice hotel facing the falls, so it should be pretty spectacular and I'll be taking TONS of pics. I won't be completely gone from the face of the web though… my hotel is equipped with wireless and I will have my laptop with me to do some minimal work such as approving tutorials and such. I definitely won't be in front of the PC all day, but I'll check in daily for an hour or two at night.
In other news, I just applied to be a Foster Family for the Mira Foundation. Mira is a Quebec based foundation that provides guidedogs to disabled people free of charge, despite the dogs costing well over $25000 to raise and train before being assigned to an owner. I've been a long time supporter of this foundation and we decided we would like to take it one step further and offer our home as a foster family for a puppy that needs to be socialized and provided basic training and guidance. We're REALLY excited about this opportunity so we are now just waiting to see if we pass their intial screening based on the application we submitted. Obviously it's very strict and a carefully monitored system, so they don't just hand out dogs to everyone. So fingers crossed and we'll see what happens.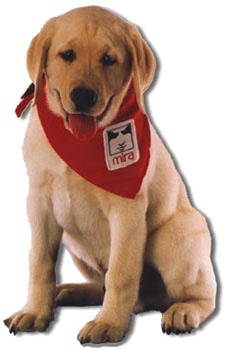 Mira dogs are seen throughout Quebec and in the rest of Canada and are easily identifiable via the trademark Mira scarves the dogs all wear. I see the working dogs quite a bit, and occasionally see puppies in training. When raising a pup, you have to bring her everywhere with you… the mall, restaurant, work etc. In fact, one of the most stringent rules of the program is that you can not leave the dog unattended for any reason for more than 4 hours. With almost all families having two fulltime working parents, you can see why they are having so much trouble finding qualified foster homes for these dogs.
So, we'll see what happens… if we qualify, you can bet your butt you'll be seeing doggy pics on here soon 😉
Other than that, Go Media is still working on the final coloring of that neat little drawing project for me. I've seen a sweet color proof, but there were a couple of things I wanted changed, so it should be finished in the next week or so while I'm gone.
So take care and I'll update you from Niagara Falls!
Dan