I am Rosebud, hear me ROAR!
I am Rosebud, hear me ROAR!
Introducing the latest member of our family, Rosebud! This is Corina's new 4-legged sister, which she met to her complete surprise when we got back from Florida.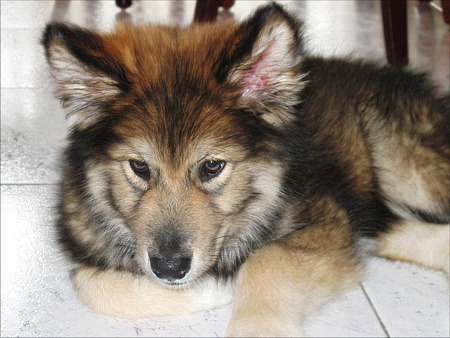 Rosebud, named after Rosebud (The only female puppy) in the cute "Buddy" movie series with the little Golden Retriever puppies, is a Native American Village Dog purchased at Indian Valley Kennels. This is my daughter's dog, so we gave her complete freedom to choose the name… personally I liked Shasta but Corina had zero intentions of hearing my suggestions. When Simba was returned to Mira (some of you might remember we were a sponsor family for Mira Guide Dogs and we volunteer to raise one of their puppies until 1 year old) Corina was obviously devastated and has been crying for a dog since. With my wife mildly allergic to dogs and not really wanting another dog in the first place it wasn't looking too good. But with Corina and I badgering the crap out of her, Terri and I sat down and started looking at Hypoallergenic dogs. Aside from the "Doodle" type dogs such as Labradoodles, all the hypoallergenic dogs were those little annoying yappy type dogs that I can't stand until we found a picture of what appeared to be a gorgeous wolf! Further research got me in touch with Carla at IVK and that's when I found out about this remarkable breed of dog know as NAIDS, Native American Indian Dogs or in Carla's breeding program, Native American Village Dogs.
These GORGEOUS dogs only shed their winter coat in the spring so there is no fur all over the house, they have no doggy odor and best of all, some lines have shown to be hypoallergenic! A test sample of fur from the dam and sire confirmed Terri had no reaction whatsoever! With Simba's fur, her eyes would get itchy and feel nasty and irritate her skin a bit. With the test swatches, there was absolutely no reaction at all, we were amazed!
I immediately placed by downpayment and reserved a puppy and last week we met Carla in person in New York to pick up our gorgeous little girl and Corina was completely shocked and speechless, she had zero clue we were getting her. I had even bought all the supplies and hid them in my office.
So now she is 10 weeks old and proving to be an extremely smart and loving little miss, and her behavior is calm and very gentle. I thought Simba was pretty calm but he was the Tazmanian Devil compared to this one. We're all very happy with her and love her to bits!
So, if I sound cranky on the P2L forums, it's because of the late night bathroom wake-up calls 😉
Dan