Pixel2life Reviews the Services of PSD2HTML!
Pixel2life Reviews the Services of PSD2HTML!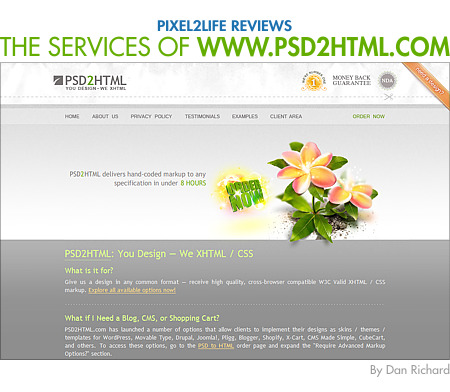 If you've ever had to slice up a layout, you're probably very aware of how difficult it can be to get your beautiful PSD layout to look just as awesome in the various major browsers used by internet users the world over. Unless you're a fairly accomplished HTML and CSS programmer, you know exactly what I'm talking about, and some of you have probably designed some gorgeous layouts without a clue on how to get them published online. Today I want to introduce you to the one of the first and still the best PSD to HTML conversion services, PSD to HTML by PSD2HTML.com! For prices starting as low as $153, PSD2HTML.com will convert your PSD, PNG, AI, JPG or other supported graphic formats and convert them in to a fully W3C compliant and validated website.
The beauty of this service is that they have been doing this since early 2005 and with this experience brings the skills and intelligence to slice up your layout properly, rather than using the sketchy techniques of "the kid next door". This means your images will be sliced, optimized, and named using a logical naming scheme, your site will be coded properly and w3C validated, SEO will be implemented in all naming and coding conventions and the final result is GUARANTEED to match your source material. In fact, if you don't like the final results or they can't finish it for you, they will send you a full refund!
Just check out their testimonials page, it's clear PSD2HTML.com is professional and has a huge list of very happy customers. You can also undefinedclick here to check out some examples of their work.
Another great feature is their extremely comprehensive order page, where you can order a custom tailored service to address your needs, and with prices starting at $153, it's easy to afford their services instead of spending days and weeks trying to get your layout coded yourself or chasing friends around for it.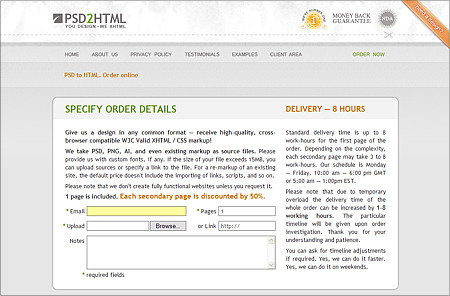 I love how you can order right online without having to try and get in touch with a sales person first. Naturally you can contact them directly if you have any questions prior to placing an order, but with PSD2HTML.com you can just go online, upload your files, choose your package options, pay and 8 hours later your layout is done! You just can't beat that!
And for those of you that laugh at my old age addiction to tables, you'll notice that all of their layouts are table-less CSS design. So now you can get your advanced templates sliced up in pure CSS with no tables. I miss 1996.
Want to know more about PSD to HTML by PSD2HTML.com? Check out these detailed reviews by folks that use their services for their web design needs:
http://snook.ca/archives/business/review_psd2html/
http://designshack.co.uk/news/psd-to-html-by-psd2html/
If you're ever in need of someone to slice up your latest web layout design, do not hesitate to contact www.psd2html.com. They're not the #1 PSD to HTML conversion service for nothing and their product speaks for itself.
Enjoy!
Dan