Spookfest 2009 Ends, Normal Life Resumes (I HOPE)!
Spookfest 2009 Ends, Normal Life Resumes (I HOPE)!
Hi all! I think it's time I started paying attention to my blog again, what do you guys think? I actually have a lot of people contact me through this site when they are trying to find me, so I think it's time for some TLC on my blog and get back in the habit. I've been very busy in all my personal projects, but this past week and a half was the AMAZING Sideshow Spooktacular event, an online extravaganza that is very close to my heart.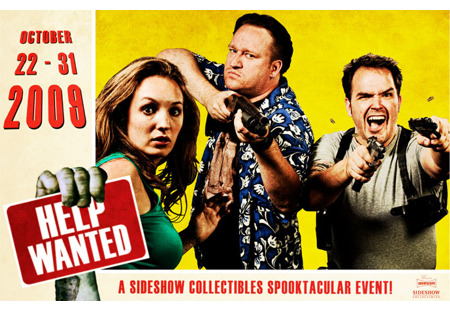 For those of you that have no idea what Sideshow is or my little hobby (aka vice), let me explain Spooktacular for you a little bit… What is Spooktacular? It's Sideshow's annual Halloween and Horror online extravaganza of rotating discounts, spot giveaways, new product announcements, contests, and community interaction, plus much more! Basically it's a week and a half of Sideshow Collectibles partying with their customers and fans in a MASSIVE online event that runs 24 hours a day for 10 entire days. During those 10 days, they give away tens of thousands of dollars worth of prizes, announce awesome new products and we all have a blast. The highlight of the event for me is the 10 day chat room they open up, where hundreds of fellow collectors and Sideshow enthusiasts can interact each other and compete for chat prizes via trivia contests and scavenger hunts. It's a time for no sleep, minimal food and very little social interaction outside of the computer. You eat, sleep and breath Sideshow, and hope that when it's over you're still alive and your wife hasn't filed divorce papers.
Some of you are probably wondering who the hell Sideshow is at this point. For anyone that doesn't know, I collect science fiction movie collectibles, like statues and props and stuff like that from various favorite movies… I specialize in Predator related collectibles, but I also dig Terminator, Star Wars, Lord of the Rings etc. Sideshow is probably the biggest company in the world that creates museum quality statue replicas and full size prop replicas and they are HUGELY popular for collectors like me. So when a huge event like this comes around, you can rest assured that we go all out and try to take in as much as we can of the event. Spooktacular is always held right before Halloween and ends on Halloween day… so the first week of November is always a brutal week for me lol!
I also do extended Spooktacular coverage on my other site, Predatorstuff.com and it's VERY busy for me while I try to post the latest Spookfest news AND keep an eye on chat and new contests etc. It's stressing, but a lot of fun! If you want to get a taste of what my work looks like, you can check out the Spookfest article category by clicking HERE! You can also check out the main portal page on Sideshow's site for Spooktacular 2009 by clicking HERE.
And with Spooktacular all finished, I always put together a little written review of the event to talk about my thoughts on the event, but mostly just to thank Sideshow for spoiling us rotten and as a thank you to all my friends who hung out with me in chat over MANY long hours. I'll be posting my review later this week, but I did toss up a quick thank you and shoutout video tonight if you're interested.
The video is available on YouTube in HD, check it out by clicking HERE! Most of it you probably won't really understand what the heck I'm talking about, but it gives you an idea of the fun I had.
So yeah, that's where I've been for the last couple of weeks, hope everyone had a GREAT Halloween and hauled some serious candy! I'll see you next post…
Take care,
Dan