Game of Thrones audio broken after intro or opening credits on PS3 Media Server PSM Fix!
If you're like me, you're probably enjoying Game of Thrones season 3 right now, and like me, you may be watching your episodes via your Playstation using PS3 Media Server and you've noticed lately that when watching the show, the audio craps out after the opening credits have played or maybe after the "Previously on Game of Thrones" segment.  This started happening for me, so I fuddled around with the PS3 Media Server Transcode settings and found a configuration that worked flawlessly.  Here's the settings you should try out for your audio set up and your Game of Thrones sound should start to work again: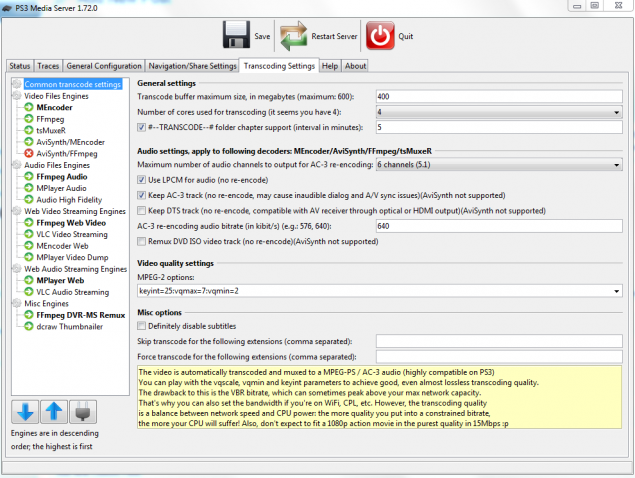 So the parts you need to pay attention to are the audio engines order and the audio engines settings on the transcoding settings tab.  On the left side under "Audio Files Engines" make sure you have the order set as:
FFmpeg Audio
MPlayer Audio
Audio High Fidelity
Then, in the left middle area under "Audio settings, apply to following decoders:" make sure you check "Use LPCM" and "Keep AC-3" options and the rest are off.  Save and restart PS3 Media Server and you should be back in business!  You should also ensure you're running the latest version of PSM or at the very least a fairly recent stable build.  PSM is updated on a fairly regular basis and the PSM team is always patching new bugs, adding tweaks etc.
Oh and yes I know I have video quality set pretty low… I stream via Wifi and anything higher just craps out.  One of these days I'll hardwire it.
Please post a comment and let me know if it worked!
Dan