P2L Launches new company portal website for professional services!
Hello everyone!  Just wanted to show you guys the new website I designed for the official P2L Studios company page.  I wanted to start getting back in to freelance but I didn't have a portfolio online anymore, plus I wanted to showcase all the services provided by the P2L network so I figured it was time to put the P2LStudios.com domain to good use.  Here's the new layout: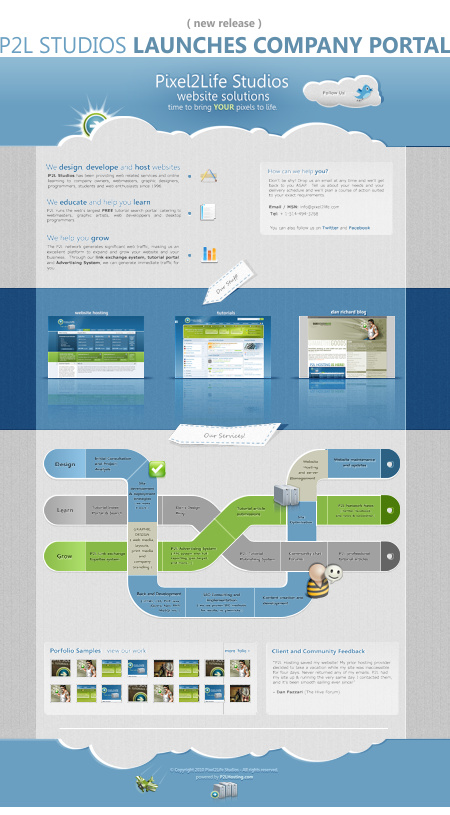 The layout was built from scratch in Corel Photopaint X5 but I would like to thank the folks at wegraphics.net who published a GORGEOUS website layout tutorial for Photoshop that obviously inspired the layout I did.  I saw the tutorial at least a month ago when it was submitted and right away I thought it was amazing and wanted to create something similar for one of my sites.  I don't use Photoshop so I couldn't really follow the steps of the tutorial, plus I didn't want to copy it exactly so I tried to look at it only a few times and added my own little touches.  So thanks guys, amazing tutorial and I am in love with the final result.
I also designed the little info graphic that shows the P2L services.. that was inspired by a board game my daughter had in my office and thought it would look really cool as an info-graph.  Very happy with the final results, hope you like it as well.  Please check out the site at www.p2lstudios.com and let me know what you think!
Dan
PS. I also need to send a HUGE thanks to Adam and Nick for coding the site for me, thanks so much guys!