New Artwork For Dan – Having some fun with Go Media!
New Artwork For Dan – Having some fun with Go Media!
All work and no play makes Dan the dull boy. It's actually been awhile since I've had a chance to get in on some fun projects that wasn't wholly centered around P2L or one of my other businesses, so I'm having a ball working with Go Media on a fun new art piece featuring… well.. ME! First off, if you haven't heard of GoMedia.us, you have GOT to go check out their insane artwork portfolio, these guys are supremely talented. Anyhow, I really dug the magazine cover art they did (you can see it here) so I half jokingly mentioned to owner Jeff Finley that I would love to have a piece done of me in that wicked vectorish grungy style for my blog, maybe a poster or something, a T-Shirt… whatever I felt like. Well, we talked, then talk led to ideas, that led to photos and poses of yours truly and at the end of the day, we had a commissioned piece on the table instead of me just kidding around. So now I'm sitting here daily waiting for the latest proof to arrive and I am genuinely completed excited to see how this turns out!
Dave, the artist who is working on this and who did the original mag cover, is absolutely brilliant and I am having a lot of fun working on the poses and attitude of the piece. He's been working on some basic sketches and here is the latest proof I approved as the final pose for the digital final: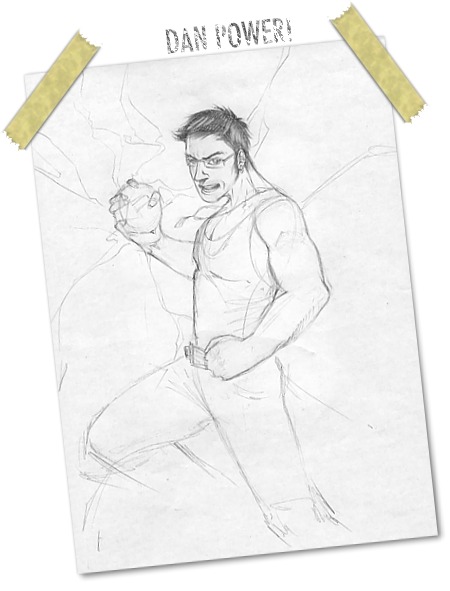 So I'm pretty stoked about this and having fun with it. Can't wait to see more proofs, which I assume will be Illustrator drawings 🙂
Dan