And I'm Back… FINALLY!
And I'm Back… FINALLY!
Went out yesterday and shot some high res images of the falls from various look-out points around Niagara Falls. Ended up getting some great shots and I'll be blowing one up to print and frame for a wall in the house. It was a gorgeous final day just like the entire week… Sunny and hot with a nice breeze coming off the water, it was awesome.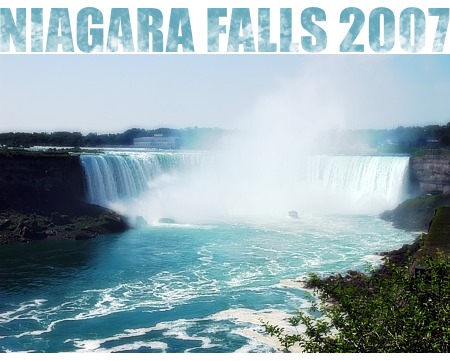 It was a long drive back home today though due to traffic, so after leaving at 9:45AM, we crawled back in to the house at around 5:30PM and then it was right back out to the grocery store for food as our fridge was completely empty and Corina has summer camp day tomorrow and needed a snack and all that good stuff. Plus I needed milk… if Dan doesn't get his morning cereal, things do NOT go well for anyone. But seriously, it was GOOD to be home and now I am just contemplating where I need to go first to tackle the ridiculous pile of work I've collected since leaving.
Speaking of ridiculous, should you be traveling to the Niagara region and you are looking to book accommodations, DO NOT book the Embassy Suites Fallsview, it is a complete rip off. We somehow managed to book this hotel, which ended up being one of the most expensive places to stay in the entire region. Everywhere we walked, you would see hotel signs showing "Free Parking", "Free Wireless Internet in all rooms!" etc etc… Well, I managed to book the hotel that charged $20 a day for pain-in-the-ass-valet parking (only service available) AND $12.95 a DAY for internet!!! And no bloody wireless… thank God I brought a LAN cable with me just in case. Oh but wait… I know what you're thinking… Yes, I did in fact call and ask about this. Prior to booking I asked "Is there parking at the hotel?" and the answer was "Yes sir" and I also asked if the hotel had Wireless IN ALL ROOMS" and it was "Yes sir". So I booked with them.
Now for anyone that knows me for a few years, you know that I used to travel EXTENSIVELY for the company I used to work for, so I have stayed in hundreds of hotels and I have NEVER IN MY LIFE heard of ANYONE charging extra for internet in the hotel. So you can imagine how livid I was to find out that not only did I have to pay $13 a day, but that the wireless was only available in the lobby and in the business center. I have no words for this other than "what a fucking joke".
Next up is the restaurant connected to the hotel, which in this case was TGI Friday. Now look, I understand that a hotel restaurant will be a bit higher than normal, that's fine, I understand. This was the last day, we were tired, we just wanted to eat and go back to our room to pack and get some sleep. But come on, $4 for a glass of Coke, are you serious?! Then I ordered Chicken Quesadillas, which is pretty standard fodder for these diner type places, and those were something stupid like $18 for a TINY serving!!
Moral of the story is that if you plan on staying at Embassy Suites, get ready for a fairly deep and unsatisfying ass reaming.
There's no place like home… Amen.