Allergies, Back to School and other Stuff
Allergies, Back to School and other Stuff
It's been a long summer, filled with fairly crappy weather, Spongebob Squarepants and several hundred yards of Bounty paper towels. And if there's anything I learned this summer, it's that toilet training a puppy when it's constantly raining is a HUGE pain in the ass! But it seems with back to school coming up next week, summer finally decided to start about a week ago. It's honestly been the worst summer I have ever seen in this city weather-wise, I can not believe how much rain we've had. But now that August and September are here, so is ragweed, so now my sinus ass-kicking has begun.
My stay-at-home summer duties are almost up and Rosebud doesn't need to pee every 35 minutes, so it finally means I can start catching up and stepping up the efforts on Pixel2life v5 and the community's overall development. Not sure if anyone has noticed, but P2L was recently awarded a PR7 from Google on the last update. No idea how long that will last, but… GO US! Nick is back in school but still working hard on the site. At this point I would say we are 75% – 80% done, so it's getting there.
In between work, I am also working with our NAID puppy on training and she has been doing VERY well. Here she is at 5 months old, taken today: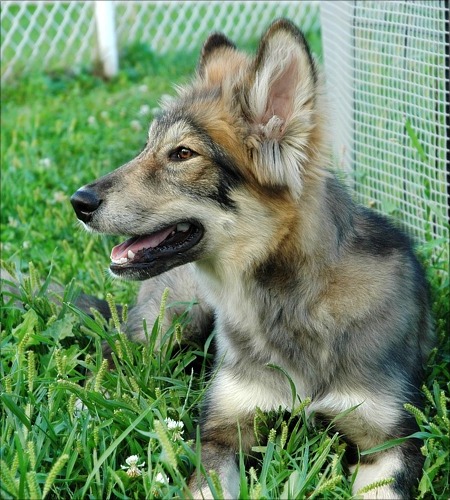 We started obedience training about 3 weeks ago and she has picked up basic commands EXTREMELY well, I am totally impressed. She seems to be able to grasp and accept commands immediately… As an example, she went from never hearing the lie down command to doing it on command anytime while walking (You can literally go Up, Down, Up, Down.. and she will keep standing and laying down) in 3 days. And she does this with minimal praise, I don't even bother with food anymore. So I am extremely proud of her and I can't wait for this winter to start Skijoring with her. We've been training with the harness too and she LOVES to pull! We haven't had much training time though, I've been busy with P2L plus the crappy weather makes it hard to go out and pull in the muck.
So that's about it from my end… all is well, just trying to hang in there until we get v5 out the door. I'm also happy to report we are back to the 5 – 7 day tutorial queue time on P2L, rather than the 2 weeks+ we had going all summer long.
That's it for me guys and gals, take care and good luck to you students in your new school year!
Dan