Product Installation Unsuccessful Please Reinstall Error 24 – Corel Photo Paint, CorelDraw etc dead June 1st 2010!
Product Installation Unsuccessful Please Reinstall Error 24 – Corel Photo Paint, CorelDraw etc dead June 1st 2010!
Nothing like settling down to get some work done in Corel and the stupid thing won't start suddenly and you're greeted with this charming error message:
Product Installation Unsuccessful Please Reinstall Error 24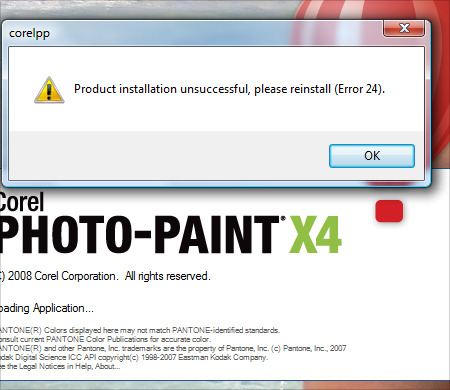 This is a problem we are all experiencing with the date change to June 1st, 2010 and pretty much everyone seems to be experiencing it and Corel is working on a solution as of right now. The only solution for now is to set your PC clock to February (don't change the date or year), run the program to start it up, then change your date back. There is a huge thread on this issue on the Corel forums and they have confirmed this is a program issue and they are working on a patch right now. Gerard Metrailler says to keep an eye on the blogs for the patch when it's released ASAP.
I'll post an update as soon as the patch is released.
Take care!
Dan
UPDATE! Looks like if you have a demo version (which is what I have direct from Corel) or a naughty pirated version, you're SOL. The issue doesn't seem to exist "apparently" for folks that have the regular retail edition. You can read the official post HERE. Looks like I'll be calling Corel tomorrow!
UPDATE 2! There is a patched dr14.dta floating around on the net that fixes the issue by replacing the old one on your system, however all known download links are no longer functional. Please contact me if you have it (select contact the webmaster from the dropdown on the contact page)!
UPDATE 3 – Another solution!
Hey guys… ok here's a little something I just found that allows you to run an application under any date and time you specify but WITHOUT changing your actual system date. It's called RunAsDate and it's free… unfortunately it will only run on 32 bit Windows versions so I can't use it myself as I am on 64bit Vista, but looks like a neat little app that won't mess with your system's actual date. Check it out and download it at http://www.nirsoft.net/utils/run_as_date.html
UPDATE 4 – FINAL FIX!
Thanks to everyone that has posted comments and links to the patch! You can find it here: *link removed*
Simply overwrite the old one in C:\Documents and Settings\All Users\Application Data\Corel\CorelDRAW Graphics Suite X4 or wherever your "All Users" is located. In vista and Windows 7 it will be in C:\Users\All Users\Corel\CorelDRAW Graphics Suite X4
NOTE – If you do not see the "All Users" folder, it's because it's a hidden folder and you have your Windows Explorer set to hide hidden files and folders. You can change that setting by going to Tools > Folder Options > View and then click on Show hidden files and folders. Hit OK and you're good to go!
UPDATE 5 – For those of you using this fix and you have a legit version of Corel, you should still contact Corel directly to report the issue. I just called them and they confirmed issues with buyers that purchased from legitimate big box locations, so this is a serious problem. So please contact Corel directly if you have bought a real copy and you are having this issue, it's important. For anyone that has a stolen/warez copy, come on guys… help support the programmers that made this product and pony up for a legit version or haggle Corel for a NFR copy!
UPDATE 6 – Guys, just finished speaking with Corel about what's happening with my eval copy and the issue in general. Please read my new post by clicking HERE. Please don't post links to the dta file in the comments as it's no longer needed… Corel will help anyone that is having the "error 24" issue and has proof of purchase for the software. Just call them up and they will help you.