Fix for Samsung Galaxy Note II that won't connect to PC via USB with Unknown Device Error!
Fix for Samsung Galaxy Note II that won't connect to PC via USB with Unknown Device Error!
I've broken free of the iTunes collar, the manacles of Mac and the yoke of iPhone madness… yes friends, I am back in the warm embrace of Android at last as I have now been moved to a Samsung Note II!  Despite the joy, there was one small itsy bitsy hiccup along the way and that was Windows 8's absolute refusal to successfully install the drivers and let me browse my brand new Samsung Note II with Windows Explorer.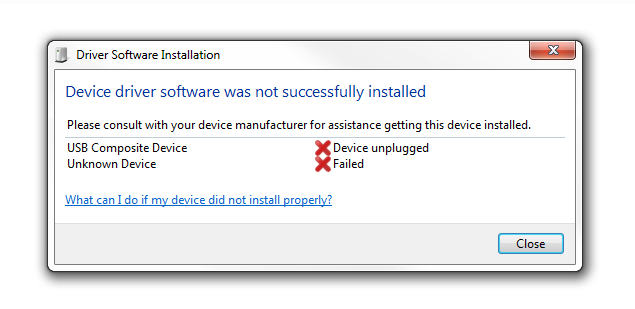 Every time I would connect the cable to any of my USB ports, I would get USB Driver installation errors saying Unrecognized Device Error.  I tried everything I could find on the web to no avail, so I tried the most basic concept I could think of… I swapped out the cable.  The default white cable that came with the phone would charge the phone no problem connected to the PC, but would refuse to properly install the drivers.
Method 1 – Change the cable (it really works!)
I literally used a $1 OEM cable I bought from a dollar store years ago for an old Motorola phone.  Within seconds, the phone connected, correct drivers loaded and boom, windows explorer popped up with all the phone's files available.  So there you go, before you try anything, swap out the cable!  If that doesn't work, then I would suggest fiddling with the other solutions found online.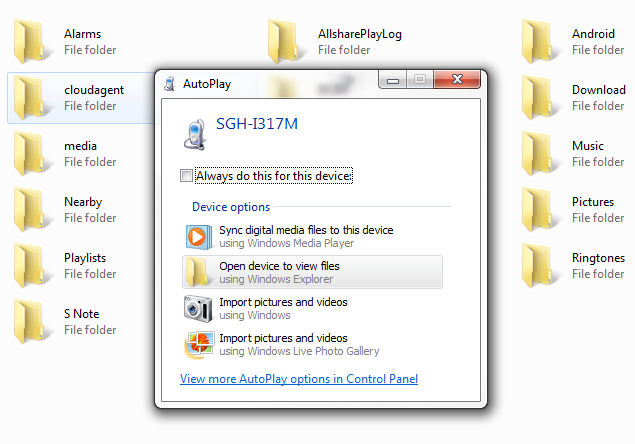 Method 2 – Don't use a usb 3.0 port
Some folks have reported that using a USB 3.0 port on the PC in question may not work correctly.  Try using a USB 2.0 port instead if possible.
Method 3 – Ensure you have the right settings
By default my phone was already set to the right settings for USB file transfers so I'll assume most of these ship with the same configuration, hence why I have this as method 3.  I found this on a forum and while it did not work for me, it seems a few other folks declared it a success.
Launch the phone key pad on your note and press *#7284# (don't forget to start with that * symbol!)
When you press the last pound sign (#) this will bring up an option that will allow you to change your USB connection settings (modem or PDA) – change it to PDA.
At the bottom there is a button that says Qualcomm USB. Click on it.
In that menu click on MTP + ADB option.
Save and reset.
Wait for your phone to restart.
Plug the micro USB cable to the Note 2 and the the other end to your PC or Mac
Let your computer down load and install drivers.
Once installing is done, unplug then replug phone.
There should be a USB symbol on your phone in the status bar – click on it. It should ask if you wsnd to use mtp or ptp. Click MTP
At this point your PC should open the phone's folders in explorer similar to the screenshot above.
Do a little dance, make a little love, get down tonight.
Remember, you do not need to use Kies or root your phone for this to work and you should not have to fiddle with manually installing and downloading drivers in Windows 8, it should work no problem as is.
Good luck!
Dan