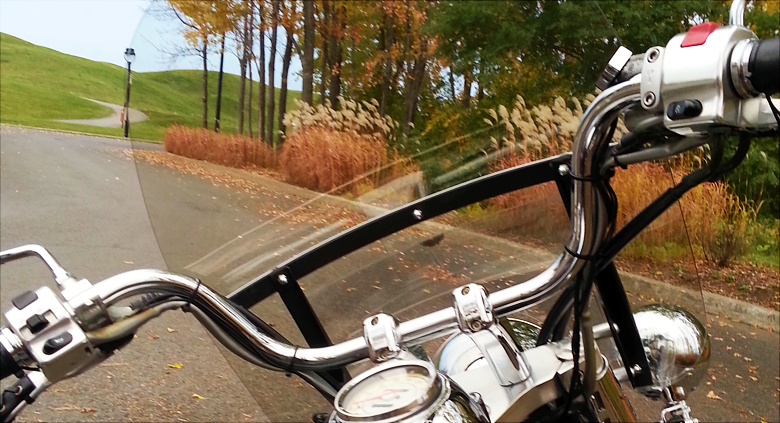 The SAAQ Responds to My Letter Regarding Accompanied Rider Law in Quebec! Le SAAQ Repond a ma Lettre Concernant la Loi D'Accompagnement!
The SAAQ Responds to My Letter Regarding Accompanied Rider Law in Quebec! Le SAAQ Repond a ma Lettre Concernant la Loi D'Accompagnement!
I apologize for the delay in posting this, but I did receive a follow-up from the Société de l'assurance automobile du Québec a couple of months ago, here is their response to my letter, which you can read by clicking HERE.
Je présente mes excuses pour le retard dans l'affichage, mais j'ai recu un suivi de la Société de l'assurance automobile du Québec il ya quelques mois.  Voici leur réponse à ma lettre , que vous pouvez lire en cliquant ICI.
Monsieur,

j'ai pris connaissance de votre correspondance du 5 janvier dernier, transmise simultanement a M. Robert Poeti, ministre des Transports, ainsi qu'a Mme Nathalie Tremblay, presidente et chef de la direction de la Societe d'assurance automobile du Quebec (Societe), concernant le retrait de l'accompagnement obligatoire durant la phase d'apprentissage des futurs motocyclistes.  En 2010, la societe a mis sur pied un comite d'experts charges d'analyser differentes pistes de solution pour ameliorer la securite routiere des motocyclistes. Au terme des travaux de ce comite, Le Rapport moto – Volet securite routiere, a ete rendu public en avril 2013. Ce dernier presente dix recommandations sur differents themes lies a la pratique de la motocyclette. Une de ces recommandations concerne le retrait de l'accompaqnement obligatoire.

Actuellement, plusieurs des recommandations du rapport sont deja appliquees ou en voie de l'etre puisqu'elles ne necessitent pas de modifications leqislatives. Les autres mesures, don't le retrait de I'accompagnement obligatoire, pourront etre mises en ceuvre des qu'une opportunite d'effectuer des modifications legislatives au Code de la Securite routiere (CSR) se presenters. D'ici la, les titulaires d'un permis d'apprenti-conducteur de motocyclette doivent respecter la reqlementation en vigueur, telle que prescrite par le CSR. A cet effet, I'article 100 du CSR stipule qu'une personne titulaire d'un permis d'apprenti-conducteur conduisant une motocyclette doit etre accornpaqnee d'une personne, elle-msme titulaire, depuis au moins deux ans, d'un permis de conduire valide
autorisant la conduite d'une motocyclette.

Si vous eprouvez des difficultes a vous trouver un accompagnateur, sachez que vous pouvez consulter certains sites Internet, tel que le site de Motodirect (www.motodirect.netiaccompagnateurs) qui fournissent des listes de personnes interessees a accompagner des aspirants motocyclistes.

En terminant, je vous invite a consulter I'ensemble des recommandations proposes par le comite sur le site Internet de la Societe a I'adresse suivante:

http://www.saaq.gouv.qc.ca/documents/documents_pdf/prevention/rapport_comite_moto.php

Veuillez agreer, Monsieur, mes salutations distinquees.
La chef de service,
~
Helene Beaulieu
HB/AMUjl
So basically the letter is explaining that they do intend to do away with the accompanied rider law, however the neither the SAAQ nor the Transport Ministry can simply remove it as it is a legislative law.  So this means that the provincial government has to table the law reform and then vote on it, pass it, and apply the new law and the intention is to do so this fall.  So in other words, nothing is going to happen until next year.
I am somewhat amused by her telling me to go to Motodirect to search for available accompanying riders… how amusing!  At this time, there are 4 available riders listed on the site for my area of Montreal, and they are available on weekends on sunny days and some evenings.  Wow, that's beyond useless seeing as I use my bike to commute, thanks a bunch for nothing.  This province never fails to amuse me with their ridiculous policies and attempts at placating the public with worthless solutions.
Francais: Donc, fondamentalement, la letter explique qu'ils ont l'intention d'en finir avec la loi d'accompagnement, mais ni la SAAQ, ni le ministère des Transports ne peuvent tout simplement supprimer la loi, comme il est une loi législative. Donc, cela signifie que le gouvernement provincial doit presenter la réforme de la loi et ensuite voter sur elle, passer, et d'appliquer la nouvelle loi et l'intention est de le faire cet automne. Donc, en d'autres termes, rien ne va se passer jusqu'à l'année prochaine.
Je suis un peu amusé par la partie de la lettre que me dis d'aller à Motodirect pour rechercher un accompagnateur … Tres amusant! A cette époque, il ya 4 accompagnateurs disponibles répertoriés sur le site pour ma région de Montréal, et ils sont disponibles le week-end, les jours ensoleillés et certains soirs. Wow, fantastique pour quelqu'un comme moi qui utilize leur pour se render au travail, merci pour rien! Cette province ne manque jamais de me faire rigoler avec leurs politiques et leurs tentatives ridicules à apaiser le public avec des solutions sans valeur.
Well, at least they answered my letter…
Dan