CorelDraw Brush Nib Packs
CorelDraw Brush Nib Packs
On this page I offer custom brush packs for CorelDraw and Corel Photopaint users. These are all .NIB packs that are converted from Photoshop brush .ABR packs that I've picked up on the net that I thought were very handy or I made them myself. Simply click on the pack you want and unzip to a temp folder on your PC. Open up CorelDraw or Photopaint and in the Brush Settings Docker, use the Nib Settings menu to load the nib shape you want to use.
Extra Goodies:
Want to know how I made these? Read the tutorial I wrote on converting Photoshop brushes to Corel Brush Nibs. If you want to know how to install these, click here!
Need a blank Nib pack for Corel Photopaint? Download a blank here!
The Packs: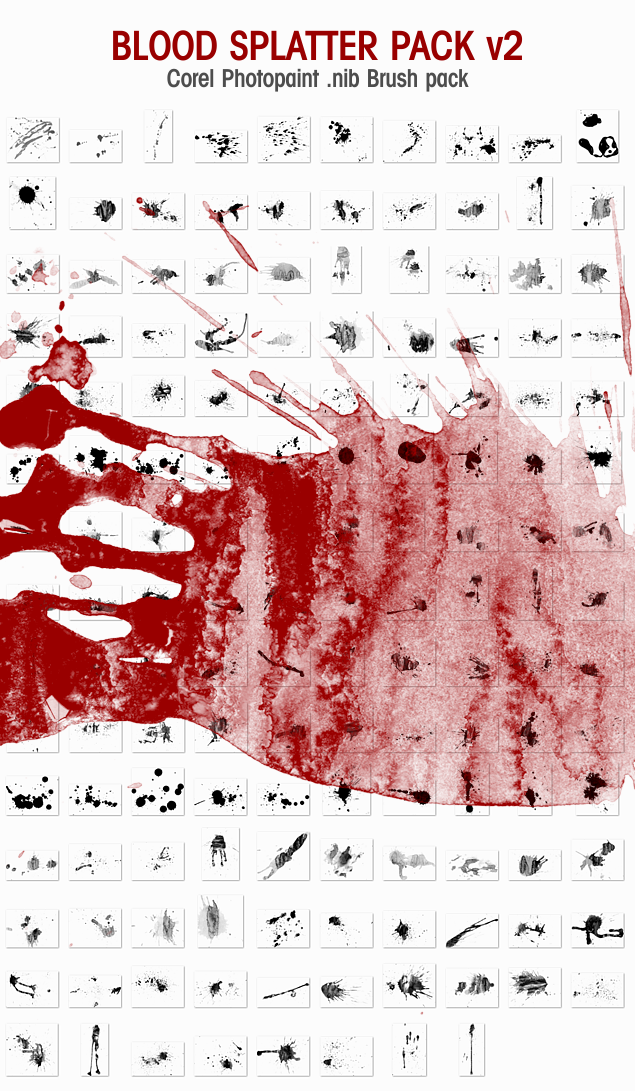 Description: Second generation .nib set of blood splatter brushes generated from several blood ABR files. This is a standalone brushpack and does not contain the default Corel nibs. Click here to download Corel Photopaint .nib Blood Splatter Pack v2. Installation instructions are here.
Download size: 17.7MB
Created: 05-09-2013

Description: Second generation .nib set of smoke brushes generated from several smoke ABR files. This is a standalone brushpack and does not contain the default Corel nibs. Click here to download Corel Photopaint .nib Smoke Brush Pack v2. Installation instructions are here.
Download size: 5.2MB
Created: 05-08-2013